About Us
Ridwan's is a Indian takeaway in Brighouse. Why don't you try our Chana Masala or Methi?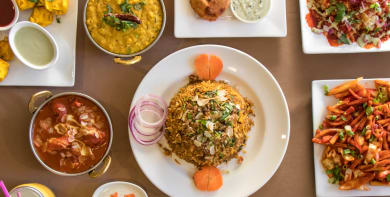 Reviews
367 reviews
Lillian
"Delivery a little late due to bad weather. So impressed that our food was only 15 minutes late but was hot and delicious! Well done, thank you."
15/01/2021
Leanne
"Outstanding food! Everything was lovely. Polite delivery driver too"
13/01/2021
Cassandra
"Honestly so lovely ♡"
11/01/2021
Adam
"Lovely as always 🤘🏻"
10/01/2021
Menu
Plain Burger Half Pounder
£3.20
Plain Burger Quarter Pounder
£2.50
Special Burger
Chicken burger & beef donner topped with donner, fried onions, salad & mayo
£4.00
Garlic Burger Half Pounder
£3.60
Garlic Burger Quarter Pounder
£2.80
Donner & Beef Burger Half Pounder
£3.80
Donner & Beef Burger Quarter Pounder
£2.80
Hawaiian Burger Half Pounder
£3.60
Hawaiian Burger Quarter Pounder
£2.80
Chilli Burger Half Pounder
£3.60
Chilli Burger Quarter Pounder
£2.80
Cheeseburger Half Pounder
£3.60
Cheeseburger Quarter Pounder
£2.70
Chicken Fillet Burger Half Pounder
£4.00
Chicken Fillet Burger Quarter Pounder
£3.00
American Burger Half Pounder
£3.60
American Burger Quarter Pounder
£2.80
King Kebab
Donner, chicken tikka & seekh kebab
£6.00
Mixed Kebab
Donner & chicken tikka
£5.00
Special Kebab
Chicken tikka, lamb & 1 seekh kebab
£5.50
Achar Chicken
Cooked in tantalizing mixed pickle masala, laced with fresh green chillies & coriander. A very tasty dish
Fairly hot
£6.50
Achar Lamb
Cooked in tantalizing mixed pickle masala, laced with fresh green chillies & coriander. A very tasty dish
Fairly hot
£6.50
Bengal Lamb Chops
Cooked with delightful special spice sauce & herbs, sprinkled with fresh coriander to give a Bengali taste
£7.00
Bhindi Gosht
Lamb cooked with okra in medium bhuna sauce & fresh coriander
Medium
£6.50
Mojja Korai
Chefs own special dish cooked with chicken, meat, prawns, mince meat, mixed vegetables & fresh coriander
Medium
£7.00
Lamb Kofta Tarkari
Meat mince ball cooked with fresh garlic, ginger, plum tomatoes, green masala, garnished with spring onions & fresh coriander
Medium
£6.50
Laham Gobi
Diced pieces of lamb cooked with cauliflower, tomatoes & fresh coriander
Medium
£6.50
Worri Special Chicken
Cooked with fresh solid beans, chefs special sauce & garnished with fresh coriander & cherry tomatoes. Very popular in Bengal
Medium
£6.50
Worri Special King Prawns
Cooked with fresh solid beans, chefs special sauce & garnished with fresh coriander & cherry tomatoes. Very popular in Bengal
Medium
£6.50
Worri Special Meat
Cooked with fresh solid beans, chefs special sauce & garnished with fresh coriander & cherry tomatoes. Very popular in Bengal
Medium
£6.50
Worri Special Prawn
Cooked with fresh solid beans, chefs special sauce & garnished with fresh coriander & cherry tomatoes. Very popular in Bengal
Medium
£6.50
Ridwan's Special
Spring lamb cooked with chickpeas, fresh garlic, capsicum, green chillies & tomatoes, topped with coriander, spring onions & chefs special blend of spices
Medium
£6.50
Murgh Masala
Tandoori chicken of the bone cooked with mince meat, chickpeas & green masala (our special sauce). Traditional home style
Spicy
£6.50
Special Garlic Chilli Masala King Prawns
Cooked with fresh garlic, green chillies, fresh coriander, spring onions & mint
Very hot & tasty
£6.50
Special Garlic Chilli Masala Lamb
Cooked with fresh garlic, green chillies, fresh coriander, spring onions & mint
Very hot & tasty
£6.50
Special Garlic Chilli Masala Spring Chicken
Cooked with fresh garlic, green chillies, fresh coriander, spring onions & mint
Very hot & tasty
£6.50
Naga Tarkari Chicken
Cooked with mince meat with the finest Bengal spices, hot chilli paste, peppers & fresh coriander
Hot
£6.50
Naga Tarkari Lamb
Cooked with mince meat with the finest Bengal spices, hot chilli paste, peppers & fresh coriander
Hot
£6.50
Nawabi Fish Baja
Marinated grilled fish cooked in chefs special sauce, served with fried onions, peppers & green chillies
Spicy & hot
£7.50
Parsi Chicken
A famous Persian dish lavishly flavoured with fresh garlic, spring onions, ginger, green chillies, tomatoes, lemons & chana daal. Its superb
Medium
£6.50
Parsi Lamb
A famous Persian dish lavishly flavoured with fresh garlic, spring onions, ginger, green chillies, tomatoes, lemons & chana daal. Its superb
Medium
£6.50
Karahi ( Medium to Hot Taste)
Cooked with traditional herbs & spices with fresh green chillies, peppers, spring onions & coriander
£6.50
Lebu Chicken
Cooked in highly flavoured spices with fresh lemons, spring onion & sprinkled with fresh coriander
Medium
£6.50
Lebu King Prawns
Cooked in highly flavoured spices with fresh lemons, spring onion & sprinkled with fresh coriander
Medium
£7.50
Lebu Lamb
Cooked in highly flavoured spices with fresh lemons, spring onion & sprinkled with fresh coriander
Medium
£6.50
Ginger Chicken
A dry dish cooked with extensive use of fresh ginger, onions & ginger
Medium
£6.50
Ginger Lamb
A dry dish cooked with extensive use of fresh ginger, onions & ginger
Medium
£6.50
Jeera Chicken
Cooked with whole cumin, onions, garlic & ginger. Garnished with fresh coriander
Spicy
£6.50
Jeera Lamb
Cooked with whole cumin, onions, garlic & ginger. Garnished with fresh coriander
Spicy
£6.50
Chicken Pahar
Fried onions, peppers cooked with boneless chicken in a medium strength sauce. Garnished with fresh coriander
Spicy & Dry dish
£6.50
Tandoori King Prawns Main
£7.00
Set Meal Deal King Prawns
2 Poppadoms (pickle tray)
Any 2 starters
Any 2 main courses
2 Naan OR 4 chapati
Ben & Jerry's 500ml
£27.00
Set Meal Deal Lamb Chops
2 Poppadoms (pickle tray)
Any 2 starters
Any 2 main courses
2 Naan OR 4 chapati
Ben & Jerry's 500ml
£27.00
Set Meal Deal Regular
2 Poppadoms (pickle tray)
Any 2 starters
Any 2 main courses
2 Naan OR 4 chapati
Ben & Jerry's 500ml
£25.00
Mixed Biryani
Chicken, lamb & prawn
£7.00
Ridwan's Platter for 2
Seekh kebab, chicken tikka, lamb tikka, onion bhaji & chicken pakora
£6.50
Royal Mixed Kebab Starter
Shish kebab, chicken tikka & lamb tikka
£3.50
Mixed Kebab Starter
Seekh kebab, shami kebab & onion bhaji
£3.50
Garlic Chicken Tikka Starter
£3.50
Hot & Spicy Chicken Goujons
£3.70
Chicken Tikka Makhani
Cooked in medium to mild sauce with cheese & yoghurt
£6.50
Tandoori Butter Chicken
Cooked with butter, almond powder & light masala powder leaving a buttery taste
£6.50
Tandoori King Prawns Masala
£7.50
Jalfrezi Ridwan's Special
£7.50
Mattar Paneer Masala Main
£5.00
Mattar Paneer Masala Side
£3.50
Ridwan's Special Mixed Veg Main
£5.00
Ridwan's Special Mixed Veg Side
£3.50
Pickle Tray
Onion chutney, mint sauce, mix pickle & mango chutney
£2.00
Ben & Jerry's Caramel Chew Chew - 500ml
Caramel ice cream with a caramel swirl & chocolatey covered caramel chunks
£5.50
Ben & Jerry's Chocolate Fudge Brownie - 500ml
Chocolate ice cream with chocolate brownie pieces
£5.50
Ben & Jerry's Cookie Dough - 500ml
Vanilla ice cream with chunks of chocolate chip cookie dough
£5.50
Ben & Jerry's Moo-phoria Salted Caramel Brownie - 500ml
Caramel ice cream with brownie pieces and a salted caramel swirl
£5.50
Ben & Jerry's Phish Food - 500ml
Chocolate ice cream with marshmallow, caramel and chocolatey shaped fish
£5.50
Ben & Jerry's Moo-phoria Chocolate Cookie Dough - 500ml
Chocolate Ice Cream with Chunks of Chocolate Chip Cookie Dough
£5.50
Contact Us
Find Us
4 Half House Lane, Brighouse, HD62PH
We deliver to
BD12, BD19, HD2, HD6, HX3, HX5, WF15